Meeting-20100814
From WPLUG
WPLUG will have a General User Meeting and presentation on Saturday, August 14th, 2010, starting at 11am at the Wilkins School Community Center.
Schedule for the Day
10:30am - Doors open, set up
11:00am - Business Meeting starts
11:30am - Featured Presentation
12:30pm - Meeting ends, everyone out. We are likely to go to D's 6pack or Square Cafe for lunch.

Speaker/Presentation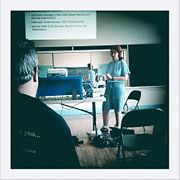 Beth Lynn Eicher of the Ohio LinuxFest will present on "Sailing the Web with Seamonkies."
Seamonkey is a Free multi-platform web browser, email client, and html editor from Mozilla.org. The focus of this talk will be on the HTML editor which is as easy to use as a word processor. We will discuss using HTML to write documentation, enhance your blog, or create a website from ground-up. You will be empowered to use the web to be seen and heard.
Beth Lynn Eicher has been creating websites 15 years for fun. Today she blogs at whatwillweuse.com - a technology blog which tracks the status of browser, operating system, and office suite market share. As a Linux advocate, Fedora contributor, and Ohio LinuxFest director, she believes that the web is an excellent forum to share free documentation and market your ideas.
Meeting Minutes
(TBA)
Meeting Staff
If you would like to volunteer to assist with this meeting, please add your name to one or more of the categories below.
Host: Your name here
Co-Host: Your name here
Donuts/Bagels: Your name here
Setup: Your name here, Your name here
Clean Up: Your name here, Your name here
Carpooling